Favorite games of NarraScope attendees
(an extremely unscientific data set)
When we set up the registration form, we included the question: "What is your favorite narrative game? Or ten games."
Not everybody filled in that line, but we collected a terrific list of favorite games. Some were verifiable big hits; others were obscurities that just resonated with someone.
Here is the compiled list, along with a chart of the years that the games were originally released.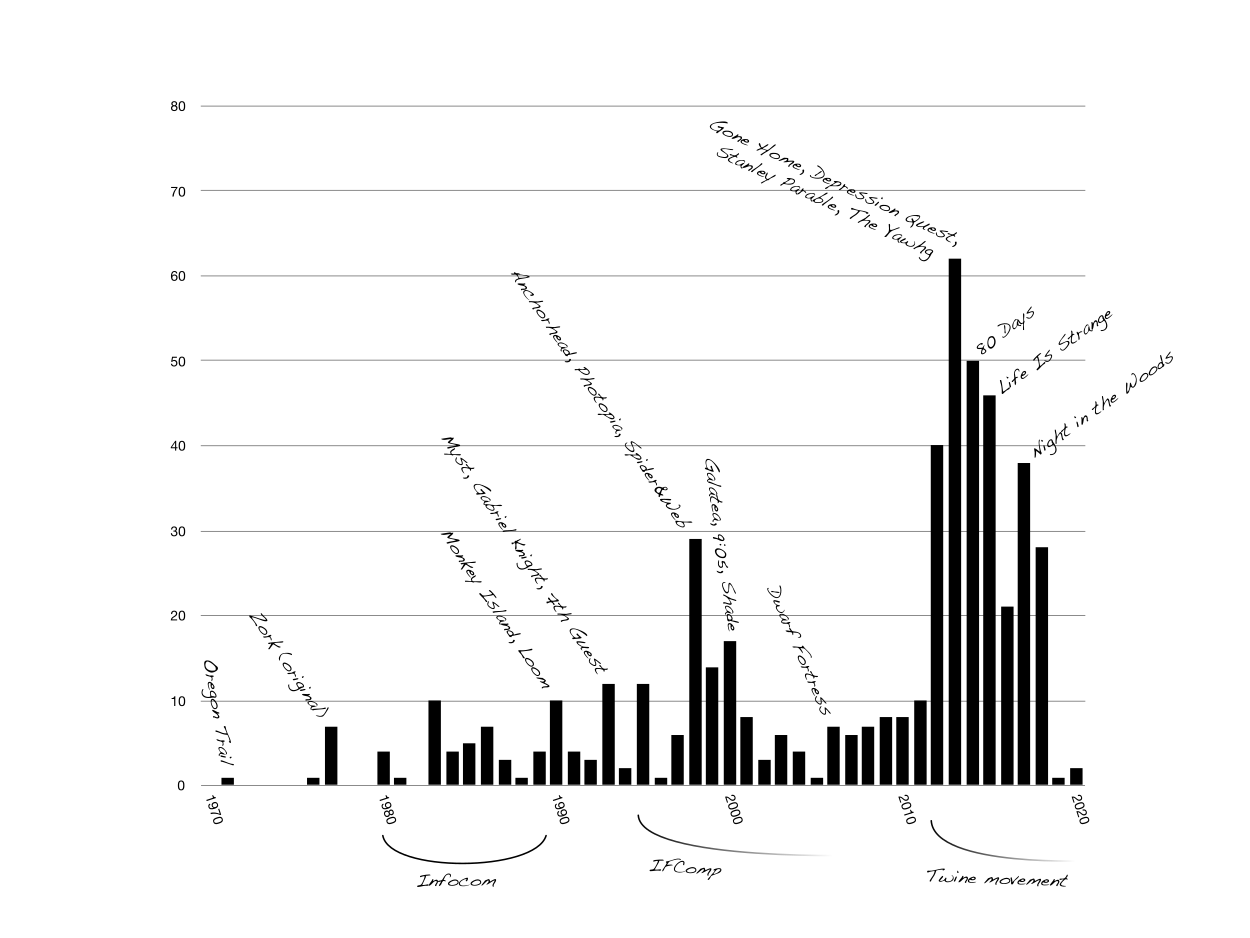 (2) 1001 Odysseys
(1) 2064: Read Only Memories
(1) 253
(1) The 7th Guest
(16) 80 Days
(1) 999 (The Nonary Game Trilogy)
(3) 9:05
(1) Ace Attorney
(1) Ad Verbum
(3) Aisle
(1) Alabaster
(1) Alan Wake
(1) All Things Devours
(1) Amplitude
(1) Anachronox
(3) Analogue: A Hate Story
(6) Anchorhead
(1) Andrew Plotkin (author)
(1) Aye Fair Lady
(1) Babel
(1) Baldur's Gate
(1) Baldur's Gate 2
(3) Bandersnatch
(1) Banner Saga
(1) Banshee's Last Cry
(1) The Baron
(1) Bee
(2) The Beginner's Guide
(1) Bioshock
(1) Bioshock 2
(1) Bioshock Infinite
(2) Birdland
(1) Blackwell (series)
(2) Blue Lacuna
(2) Bogeyman
(1) Broken Sword: Shadow of the Templars
(3) Bronze
(1) Bury me, my Love
(2) Butterfly Soup
(1) Cactus Blue Motel
(1) Caves of Qud
(2) A Change in the Weather
(2) Choice of Broadsides
(1) Choice of Games (series)
(2) Choice of Magics
(1) Choice of Rebels
(1) Choice of Robots
(3) Choice of the Deathless
(1) Choice of the Vampire
(1) Coloratura
(1) Colossal Cave
(1) Community College Hero
(1) Conquests of the Longbow
(1) Conversations We Have In My Head
(6) Counterfeit Monkey
(3) Cragne Manor
(1) Creatures Such as We
(1) Cultist Simulator
(1) Curses
(2) CYBERQUEEN
(3) A Dark Room
(1) Day of the Tentacle
(1) The Day the Laughter Stopped
(1) Deadly Premonition
(1) Dear Esther
(2) Depression Quest
(1) Detritus
(1) Detroit: Become Human
(2) Device 6
(1) Digital: A Love Story
(1) The Domovoi
(1) Don't Shit Your Pants
(1) Dragon Age
(1) Dream Daddy
(1) Dream Machine
(1) Dwarf Fortress
(2) Eat Me
(1) EcoQuest
(1) Emily Short (author)
(1) Enchanter (series)
(2) Endless, Nameless
(1) Epitaph
(1) Even Cowgirls Bleed
(1) Everlasting Summer
(1) Extrasolar
(1) Extreme Meatpunks Forever
(1) Fabricationist DeWitt
(1) Fallen Hero
(2) Fallen London
(1) Fallout
(1) Fallout 2
(1) Façade
(1) Final Fantasy 8
(1) Final Fantasy 9
(1) Finding Paradise
(7) Firewatch
(1) First Draft of the Revolution
(1) Fran Bow
(2) Full Throttle
(1) Gabriel Knight 3
(2) Gabriel Knight: Sins of the Fathers
(7) Galatea
(1) Golden Sun
(10) Gone Home
(1) Gorogoa
(1) The Gostak
(4) Grim Fandango
(1) Gun Mute
(2) Hadean Lands
(1) Harmonia
(1) Harrowing Adventures
(2) Hatoful Boyfriend
(1) Haunted P
(1) Heavy Rain
(1) The Heist: Monaco
(1) Her
(9) Her Story
(1) Hero's Quest
(2) The Hitchhiker's Guide to the Galaxy
(2) Horse Master
(1) Hotel Dusk 215
(1) The House in Fata Morgana
(3) howling dogs
(2) I Have No Mouth, and I Must Scream
(2) Indiana Jones and the Fate of Atlantis
(3) Jigsaw
(1) John's Fire Witch
(1) Journey
(7) Kentucky Route Zero
(1) Kerkerkruip
(1) Kindred Spirits on the Roof
(2) King of Dragon Pass
(1) King's Quest (series)
(1) Kingdom Hearts (series)
(1) a kiss
(1) LA Noire
(1) Ladykiller in a Bind
(1) Lamplight City
(1) The Last Day of June
(1) The Last Door
(1) The Last Express
(4) The Last of Us
(1) Laura Bow
(1) Legend of Kyrandia
(1) Leisure Suit Larry
(1) The Letter
(10) Life Is Strange
(1) Life of a Wizard
(1) Life's Lottery
(1) Lime Ergot
(1) Lisa the Painful
(1) Lone Wolf (series)
(1) Long Live the Queen
(1) The Longest Journey
(2) Loom
(1) Lost in NY
(2) Lost Pig
(2) The Lurking Horror
(1) Magical Diary
(1) Make it Good
(1) Mama Possum
(1) Mass Effect
(1) Mecha Ace
(1) Metal Gear Solid
(3) A Mind Forever Voyaging
(1) Moby-Dick; or, The Whale
(6) Monkey Island (series)
(1) Monkey Island 2: LeChuck's Revenge
(1) Monkey Island: The Curse of Monkey Island
(2) Monkey Island: The Secret of Monkey Island
(1) my father's long, long legs
(5) Myst
(1) Myst (series)
(2) Nancy Drew (series)
(1) Nested
(1) New England Gothic
(1) Nier: Automata
(1) Night House
(8) Night in the Woods
(1) A Normal Lost Phone
(1) Ollie Ollie Oxen Free
(1) Oregon Trail
(3) Oxenfree
(1) The Painscreek Killings
(1) Paper Mario: The Thousand-Year Door
(1) PaperBlurt (author)
(1) Papers Please
(1) Paradox Factor
(1) Paratopic
(1) Passage
(1) Pathologic
(1) Persona 5
(4) Photopia
(1) Pick Up the Phone Booth and Aisle
(4) Planescape: Torment
(3) Planetfall
(1) Pokemon Yellow
(1) Porpentine (author)
(1) Portal
(1) Portal (1986)
(1) Prey
(1) Primordia
(1) Psychedelica of the Black Butterfly
(1) Quarterstaff: The Tombs of Setmoth
(2) Queers in Love at the End of the World
(1) Quest for Glory
(1) Quest for Glory (series)
(1) Quest for Glory IV
(1) rat chaos
(1) Red Dead Redemption 2
(1) Reigns: Her Majesty
(1) Resonance
(2) Return of the Obra Dinn
(2) Riven
(1) Roberta Williams (author)
(1) Saga of the North Wind
(1) Sam and Max Hit the road
(1) Samurai of Hyuga
(1) Sand-Dancer
(2) Sanitarium
(2) Save the Date
(2) Savoir Faire
(1) The Sea Eternal
(2) The Sea Will Claim Everything
(3) Shade
(2) Silent Hill 2
(1) Six Ages
(1) Slammed
(3) Slouching Towards Bedlam
(3) SOMA
(1) Sorcerer
(3) Sorcery!
(2) Spellbreaker
(6) Spider and Web
(5) The Stanley Parable
(1) Star Wars: Knights of the Old Republic
(1) Stories Untold
(1) A Study in Steampunk
(1) Sunless Sea
(2) Suspended
(1) Swan Hill
(1) System Shock
(2) Taco Fiction
(1) Tacoma
(6) Tales from the Borderlands
(1) Tally Ho
(1) The Talos Principle
(1) Thimbleweed Park
(1) Thirty Flights Of Loving
(1) Thy Dungeonman
(1) To The Moon
(1) Toby's Nose
(1) TOMBs of Reschette
(1) Tower of the Blood Lord
(1) Trapped in Bat Wing Hall
(5) Trinity
(2) Unavowed
(5) the uncle who works for nintendo
(2) Undertale
(1) The Vanishing of Ethan Carter
(1) Varicela
(4) Violet
(1) Virginia
(1) Voyageur
(6) The Walking Dead
(1) The Wand
(1) Wandersong
(1) We Know the Devil
(1) What Isn't Saved (Will be Lost)
(6) What Remains of Edith Finch
(1) Where the Goats are
(3) Where the Water Tastes Like Wine
(1) Whispers of a Machine
(1) Whitefield Academy of Witchcraft
(1) The Witcher 3
(8) With Those We Love Alive
(1) The Witness
(3) The Wolf Among Us
(1) Wolfgirls in Love
(2) The Writer Will Do Something
(2) The Yawhg
(1) Zelda (series)
(1) Zero Escape
(1) Zero Escape (series)
(2) Zero Escape: Virtue's Last Reward
(1) Zombie Exodus
(7) Zork
(2) Zork (series)
(1) Zork 1
(1) Zork 2